BIO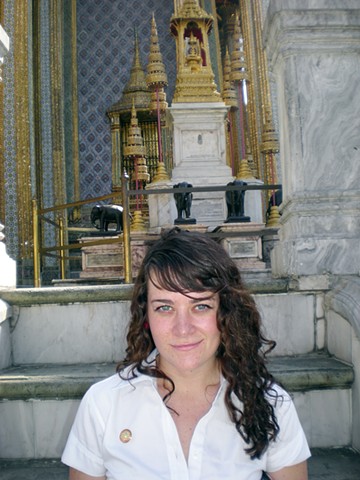 Cait Finley (b. 1986) is an American artist who was raised on an Echinacea farm on the high desert plains of western Montana. Finley's formative years were spent mostly outside, and her practice is greatly informed and inspired by the natural worlds ability to rebuild, post-destruction. Finley also takes cues from the International Style of Dutch Renaissance painting, that presents opulence and decay and the cyclical nature of existence, and is fascinated by the different psychological and cultural associations with the color black.
Over the course of her artistic career, Finley has expanded her practice from sculpture and ceramics, to include video, animation, sound and set building.
She has exhibited nationally and internationally, receiving awards from the Autio Foundation, The Montana Museum Of Art, Syracuse University and Freeman-Asia. The artist has also shown at the Archie Bray Foundation (MT), Anderson Ranch (CO), Ox-Bow (MN), The Holland Project Gallery (NV), Random Access (NY), CB1 Gallery (CA), and in Bangkok Thailand. Finley is now in her Masters of Fine Arts candidacy at Syracuse University.